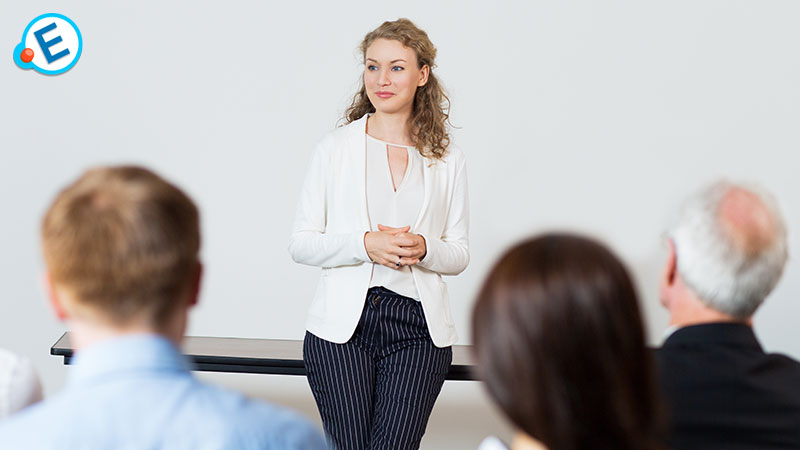 Are you afraid of public speaking? It is one of the most widespread problems now. There are many troubles connected with speaking to the audience, such as nervousness and inner tension. However, it is not as hard as you can imagine, because there are different tips that can improve your public speaking skills and help you not to die from stress.
Use Neuro-Linguistic Strategies
There are many useful methods of NLP. The most common in case of public speaking is "anchor". This approach can enlarge your self-confidence and reduce the stress load. For example, you can create your own movement and repeat it every time before public speaking. In other words, it will be a signal of your success. Thanks to it, you will be more confident and relaxed.
Less Worries, More Practice
Practice your speech at least three times before giving it.
First step: Imagine live audience (if it is very hard, let toys or chairs be your audience). Take notice of the way you move and speak. Try to use the method of NLP, which we mentioned above. It reduces the worries and increases communication with the public.
Second step: Ask someone to help you (they can be your friends, relatives or other people). During the speech, you can see their reactions and emotions. You will be prepared for the real public speech without being confused. Moreover, you should practice the breath (several deep breaths and slow speaking with the accents on the most important parts of the speech).
Third step: This step is nearly the same as the second, but now, you should wear your presentation clothes and speak. Let your family feel the full atmosphere of your public speaking. Furthermore, it will be a good opportunity for you to feel the same!
Control Your Nerves and Fears
Public speaking is not as terrible as many students think about it. Try to keep calm and realize that everything is good and there is no need to be afraid of anything. It is just the small part of your studying, try to go through it with flying colors. Furthermore, adrenalin will also do its job. Your speech will be more interesting emotionally. Moreover, there are many useful ways of how to avoid being nervous before public presentations.
First way: Breathe deeply, raise the hands up and put them down. Repeat this action several times and it will decrease the inner pressure and will stabilize your pulse.
Second way: One more time, put your hands up.
Third way: Think what you are talking about and concentrate on your words. Try to be relaxed and enjoy your speech.
As you see, public speaking is not the greatest worry in your life. The more you practice, the fewer troubles you have (this concerns not only your public speeches). So, take your fears under control and prepare the speech. Smile, be positive and take it easy.